Olixar ArmourDillo HTC 10 Protective Case - Black
Referência produto: 59094
Protect your HTC 10 from bumps and scrapes with this black Olixar ArmourDillo case. Comprised of an inner TPU case and an outer impact-resistant exoskeleton, the ArmourDillo provides robust protection and supreme styling.
"A'ma'zing"
"Brilliant product."
"Very pleased."
Comentários mais úteis
12 Agosto 2016
A'ma'zing
I was looking for the "best" cover for my new HTC 10. And this one is the best of the moment. Really resistant (you can feel it), thé bouton now are confortable and the back door incorporate in the cover is the most useful gadget, I same use it and I have my phone in my hands. Definitely recomand, and the price is ridiculous ;) Vincent
John Rawson
Yorkshire
htc 10 ArmourDillo case
28 Julho 2016
Brilliant product.
I needed a phone case that would provide substantial protection for my phone whilst working on cliff faces or in stone quarries. The case is ideally strong and has a pull out wedge allowing the phone to be propped up at an angle on its side. Unless you need heavy duty protection for your phone you would consider this case too bulky and detracting from the neat lines of the HTC 10 phone.
JOHN FANCOTE
BIRMINGHAM
HTC 10
14 Julho 2016
Very pleased.
Good case, offers protection to my phone. The kick stand is useful.
21 Comentarios
|
Deixar um comentário
---
Informação adicional
Two layered case protects from bumps, scrapes and drops
This tough protective case has been designed for those with an active lifestyle. It provides great shock and impact absorption thanks to its lightweight TPU polymer with a precisely positioned hard skeleton for added protection. The design of the exoskeleton extends out to protect vulnerable parts of your HTC 10 such as the corners and sides.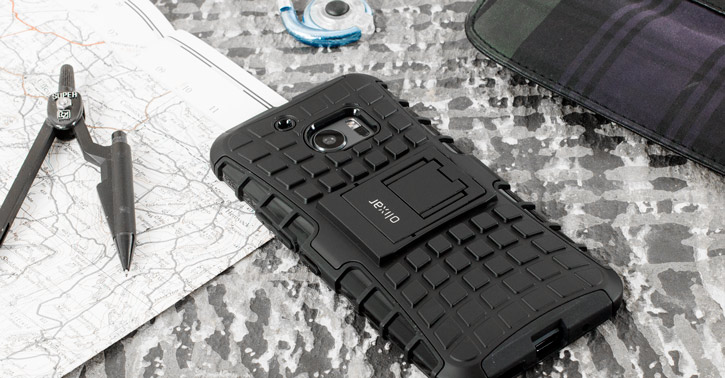 Features an impact-resistant polycarbonate exoskeleton
The Olixar ArmourDillo Protective Case features a tough exoskeleton, which covers the back and vulnerable corners of your phone from damage. They are made from an impact-resistant, polycarbonate plastic shell protecting your HTC 10 from accidental damage - keeping it looking as good as it did when you bought it.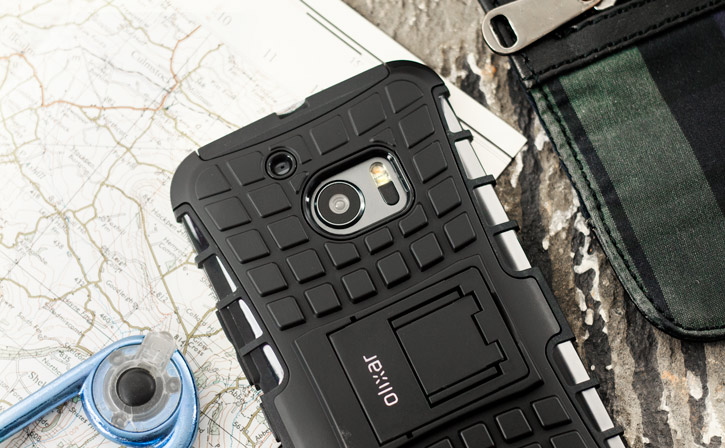 Textured grid finishing improves grip and comfort
Complementing the protective properties of the polycarbonate shell is a textured finish, which not only helps to improve grip when holding the handset, but also makes it more comfortable in the palm of your hand.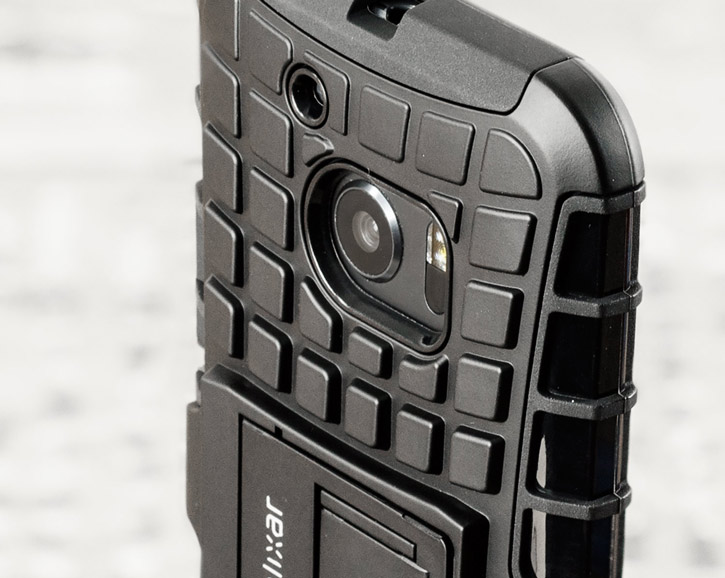 Portable flip-out stand for landscape viewing
The Olixar Armourdillo's hard attachable exoskeleton doesn't just add strength to the silicone shell, but features an ergonomically designed stand that pulls out to give the perfect viewing angle for watching media, web browsing and reading. The stand then simply clicks back into place and lays completely flat so there is zero extra bulk added to the case.
Cut-outs for the main ports and features of the phone
This tough protective case has been designed specifically for the HTC 10 and has cut-outs for the main ports and features of the smartphone such as the camera with flash. The power and volume buttons are covered, but remain functional while Olixard to give unbeatable protection.